Le Mag : Agricool Today
§ Samedi 6 Septembre 2014
Australian parents describe moment deaf baby hears for first time
The Australian parents of a deaf baby boy have described the "overwhelming" moment their son heard their voices for the first time.
Lachlan Lever was diagnosed with moderate-to-severe hearing loss at birth, but was fitted with hearing aids when he was seven weeks old.
His parents Toby and Michelle captured the amazing occasion in 2012 on video, but only recently shared it with the world on Youtube.
Mrs Lever told the BBC: "Our baby not only smiled for the first time, more importantly he heard. His whole world opened up."
Source : BBC News
§ Jeudi 18 Septembre 2014 :
L'Ecosse dit non à l'indépendance
Credit

Russell Cheyne/Reuters
On Sept. 18, Scotland is scheduled to vote on seceding from Britain. We take a look at the issues at stake for the Scottish people.
Video Credit

By Carrie Halperin on

Publish Date

August 6, 2014.
Image Credit

Andy Rain/European Pressphoto Agency
Scotland spurns independence in a historic referendum that threatened to break the United Kingdom apart, sow turmoil in financial markets and diminish Britain's remaining global standing. Ciara Lee reports.
---
§ Vendredi 19 Septembre 2014
L'un des premiers acheteurs de l'iPhone 6 le fait tomber en direct à la télé (Perth, Australie)


Source :

9 News Perth
---
§ Samedi 20 Septembre 2014

Let a Hundred McMansions* Bloom

The Dong Dianhu Manor housing development west of Shanghai.
Credits :
Photographs by
GEORGE STEINMETZ
In the Dianshan Lake region, less than 40 miles west of central Shanghai, the appetite for speculative real estate has driven developers into China's most fertile land, the Yangtze Delta. Only about half of the luxury villas like those on the following pages, which can be as big as 6,300 square feet and sell for as much as $1.5 million, are occupied — mostly as second homes. The rest sit empty, as the housing sector staggers under a surplus. The photographer George Steinmetz, who visited the area last fall, describes the transition as converting "rice farms to high-end McMansions." As that process plays out, the country's domestic rice consumption is set to soon outpace rice production.
Marnie Hanel
* In American suburban communities, McMansion is a pejorative for a type of large, new luxury house which is judged to be oversized for the parcel or incongruous and out-of-place for its neighborhood. Alternatively, a McMansion can be a large, new house in a subdivision of similarly large houses, which all seem mass-produced and lacking in distinguishing characteristics, as well as appearing at odds with the traditional local architecture.
The neologism "McMansion" seems to have been coined sometime in the early 1980s.(...) An example of a McWord, "McMansion" associates the generic quality of these luxury homes with that of mass-produced fast food meals by evoking the McDonald's restaurant chain. (Source : Wiki)
---
§ Dimanche 21 Septembre 2014

Le monde entier marche pour sauver la planète.

Plus de 300 000 manifestants dans les rues de New York :

A Londres, Vivienne Westwood, Peter Gabriel et Emma Thompson :

A Sydney où la journée de marche a commencé: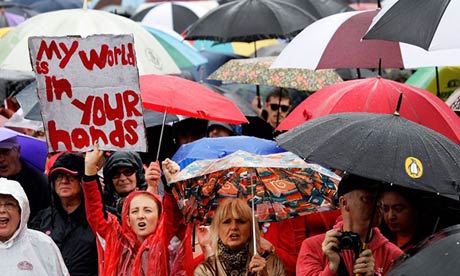 The rainy Climate Action Day rally in Prince Alfred Park, Sydney. Photograph: Lisa Maree Williams/Getty
---
§ Mercredi 01 Octobre 2014

Sortie de Dracula Untold, film racontant l'histoire de Dracula, personnage de Bram Stoker, mais en lui inventant un passé.
Facing threats to his kingdom and his family, Vlad Tepes looks to make a deal with dangerous supernatural forces - without succumbing to the darkness himself.
Dracula Untold is an upcoming 2014 American dark fantasy action horror film directed by Gary Shore in his feature film debut and written by Matt Sazama and Burk Sharpless. Rather than focus on Irish novelist Bram Stoker's 1897 novel Dracula, the film creates an origin story for its title character, Count Dracula, by portraying the story of Vlad the Impaler, who uses dark powers to protect his family and kingdom.
Principal photography began on August 5, 2013 in Northern Ireland. Universal Pictures will release the film on October 10, 2014 in theatres and IMAX. Universal intends the film to be a reboot of the Universal Monsters franchises.
Source : Wiki

---
§ Jeudi 2 Octobre 2014

Prince George 'harassment' warning to photographer
"Lawyers for the Duke and Duchess of Cambridge have asked a photographer to "cease harassing" Prince George.
A Kensington Palace statement said they were prompted to take action after the man was spotted near the 14-month-old and his nanny in a central London park.
The couple are not taking legal action at this stage, but may consider it in the future, the statement said.
Lawyers for the photographer, Niraj Tanna, said he had done nothing wrong and would continue with his work.
The statement from the palace said there was "reason to suspect that the individual may have been placing Prince George under surveillance and monitoring his daily routines for a period of time.""
Source : BBC

---
§ Mercredi 8 Octobre 2014
Vulnerable Man was subjected to "Modern Day Slavery"
Darrell Simester's family struggled to recognise him when they first saw him
A vulnerable man was forced to work unpaid for 13 years in "modern day slavery", according to prosecutors.
Horse farmer David Daniel Doran, 42, pleaded guilty midway through his trial to making homeless Darrell Simester, from Kidderminster,perform forced or compulsory labour.
Judge Neil Bidder QC said this was "a case of 13 years of exploitation".
His father Daniel Doran, 67, who faced the same charge, was formally found not guilty at Cardiff Crown Court.
During the trial, the jury heard how Mr Simester, whose family thought he was missing, had been living in squalid conditions at Cariad Farm near Newport after he had been picked up on a dual carriageway by a member of the Doran family following a trip to the seaside at Porthcawl.
He was offered work at the family farm in Peterstone, Newport.
But the work turned out to be forced labour and his accommodation was a rat-infested shed with no washing facilities.
He ate two meals a day on his own in the outbuilding and for more than a decade he was not given soap and never used a toothbrush.
"I used the horse trough to have a wash," Mr Simester told the jury.
During his time at the farm, the 44-year-old fractured his hip after falling from a horse but continued to work despite the pain he was in and was only taken to hospital two days later where he had to undergo surgery.
He had told the court he was "terrified" of Doran and his father.
On Wednesday, midway through the trial, Doran admitted forcing Mr Simester to work unpaid during the period from April 2010-13 but the jury were told by the judge there had been a total of 13 years of exploitation although the judge said there was no evidence he had faced threats of violence while he was there.
The crown decided not to pursue the case against Daniel Doran.
Source : News Wales
---
§ Mercredi 29 Octobre 2014
Google X Team Hopes to Develop Nanoparticles to Provide Early Detection of Cancer, Other Diseases (Idée de Progrès)
HOW IT WILL WORK
Nanoparticles could be ingested in a pill to enter the bloodstream.
They would be designed to bind to a particular type of cell – like a cancer tumor cell. This would be done by 'painting' them with a substance that could interact with the surface of cells.
They'd then travel together as a unit through the bloodstream.
The core of the nanoparticles would be magnetic, so a wearable device that creates a magnetic field could draw the particles – with their target cells in tow – toward it, where they could be detected and counted.
Experts at Google are studying various non-invasive techniques, like light and radio waves, for detecting and counting the particles.
Google Nanobots to Borg Humans
---
§ Vendredi 13 Mars 2015
On Friday 13th March 2015 it's Red Nose Day in the UK! But what exactly is Red Nose Day and why does it take place?
The first Red Nose Day (RND) was held on 5 February 1988, when it was launched as a National Day of Comedy, and since then they have been on the second or third Friday in March. Red Nose Day is often treated as a semi-holiday for example, many schools have red-themed non-uniform days. The day culminates in a live telethon event on BBC One, starting in the evening and going through into the early hours of the morning, but other money-raising events take place. As the name suggests, the day involves the wearing of red noses which are available, in exchange for a donation, from supermarkets and charity shops.
§ Mardi 17 Mars 2015
Saint Patrick's Day
Cet adorable petit garçon de deux ans a défilé le 14 mars à
Memphis (
Tennessee
, Etats-Unis).
Spectators watch as the Chicago River is dyed green ahead of the St. Patrick's Day parade in Chicago, Saturday, March 14, 2015. (AP Photo/Paul Beaty)
---
§ Mercredi 18 Mars 2015

Sortie d'Insurgent le sequel de Divergent, films réalisés à partir des romans du même nom de Veronica Roth.

---
§ Vendredi 03 Avril 2015
Libération d'un homme ayant passé 30 ans dans le couloir de la mort en Alabama. Il a été entièrement innocenté.
Anthony Ray Hinton, Alabama Man Who Spent 30 Years on Death Row, Has Case Dismissed
BY DANIELLA SILVA
One of the longest serving Alabama death row inmates will walk free on Friday after a judge dismissed the capital murder charges against him, finding there was not enough evidence to link him to the crimes.
Anthony Ray Hinton, who was on death row for nearly 30 years, had been charged and convicted in the 1985 murders of two Birmingham area fast-food managers.
Managers John Davidson and Thomas Wayne Vason were fatally shot in two separate fast-food robberies in 1985. While there were no witnesses to the murder or fingerprints found at the scene, Hinton was arrested after another employee identified him in a photo lineup, according to his lawyers.
Hinton was convicted on the claim that a revolver taken from his mother's home was the weapon used in both murders, Hinton's attorneys, with the non-profit Equal Justice Initiative (EJI), said in a statement Thursday.
The case's dismissal comes 13 years after Hinton's attorneys presented testimony from ballistics experts that determined the revolver from his mother's home could not be matched to the crimes, according to the statement.
Hinton was granted a new trial in 2014 after the United States Supreme Court reversed the lower court's ruling. Prosecutors in Hinton's new trial said forensic scientists tested crime scene evidence and found the bullets recovered from the site of the murders could not be matched to Hinton's gun, according to NBC affiliate WVTM. Jefferson Court Judge Laura Petro on Thursday granted the state's motion to dismiss the charges against Hinston on the grounds that there was not enough evidence to conclusively link him to the crimes.
"We are thrilled that Mr. Hinton will finally be released because he has unnecessarily spent years on Alabama's death row when evidence of his innocence was clearly presented," Bryan Stevenson, Hinton's lead attorney and executive director of EJI said in a statement. "The refusal of state prosecutors to re-examine this case despite persuasive and reliable evidence of innocence is disappointing and troubling."
The EJI said in the statement that they believe Hinton's wrongful conviction was the result of the prosecutor's "racial bias."
"Race, poverty, inadequate legal assistance, and prosecutorial indifference to innocence conspired to create a textbook example of injustice," Stevenson said. "I can't think of a case that more urgently dramatizes the need for reform than what has happened to Anthony Ray Hinton."
Political network Conservatives Concerned About the Death Penalty issued a statement Thursday night on Hinton's exoneration, saying: "Because of inept legal representation and faulty forensics, he has lost 30 years of his life, which he spent on death row, and could have easily been wrongly executed by the State of Alabama. The ease at which people are wrongly convicted and sentenced to death is appalling and should give conservatives pause."
Source : nbc.news
---
§ Samedi 04 Avril 2015

Exposition Harry Potter à Paris, à la Cité du Cinéma (St Denis) du 04/04/2015 au 06/09/2015
---
When Tony Stark tries to jumpstart a dormant peacekeeping program, things go awry and Earth's Mightiest Heroes, including Iron Man, Captain America, Thor, The Incredible Hulk, Black Widow and Hawkeye, are put to the ultimate test as the fate of the planet hangs in the balance. As the villainous Ultron emerges, it is up to The Avengers to stop him from enacting his terrible plans, and soon uneasy alliances and unexpected action pave the way for a global adventure.
Written by Marvel Studios
---
§ Lundi 27Avril 2015
This mother didn't take kindly to her son participating in the Baltimore protests and riots that happened in response to the death of Freddie Gray.The angry Baltimore mom recognized her masked son throwing rocks at police on television. That didn't sit well with her. The video shows the mother repeatedly striking her boy, chasing him as he tries to walk away.
Source :
ABC 2 News
---

§ Samedi 2 Mai 2015
Charlotte Elizabeth Diana.
The baby will be known as Her Royal Highness Princess Charlotte of Cambridge.
Here were the latest odds we've had from William Hill on the royal baby's name:
Alice - 5/2

Charlotte - 3/1

Victoria - 7/1

Olivia - 7/1

Elizabeth - 7/1

Diana - 10/1

Alexandra - 12/1

Mary - 14/1

Grace - 25/1

Rose - 25/1
The betting industry is estimated to have paid out one million pounds to punters who guessed the name Charlotte, according to Ladbrokes.
Spokeswoman Jessica Bridge said: "Charlotte was the hot tip over the weekend and royal watchers up and down the land are quids in. We may have lost a fortune but we're paying out with a smile and wish the Duke and Duchess all the best."
But bookies William Hill said they were breathing a sigh of relief that William and Kate picked Charlotte - and not their favourite Alice.
Spokesman Rupert Adams said Charlotte finished as their 3/1 second favourite, with 5,096 punters correctly guessing the name and in total they would pay out just over £100,000 in the name market.
One lucky royal fan - a woman from Barnes - has won £1,400 after placing £400 on the correct name at odds of 5/2 on Saturday evening.
---
§ Lundi 04 Mai 2015


Say "May the 4th Be With You" out loud and you'll hear the pun that Star Wars fans worldwide have turned into a rallying cry to proclaim their love of the saga. It's the worldwide day to say "May the Force be with you" to all, and celebrate the beloved Star Wars story that binds our galaxy together.
One of the earliest known records of "May the 4th" used in popular culture is in 1979, as described here by author Alan Arnold while he was chronicling the making of The Empire Strikes Back for Lucasfilm:
Friday, May 4

"Margaret Thatcher has won the election and become Britain's first woman prime minister. To celebrate their victory her party took a half page of advertising space in the London Evening News. This message, referring to the day of victory, was 'May the Fourth Be With You, Maggie. Congratulations,' further proof of the extent to which Star Wars has influenced us all."
Once the Internet allowed Star Wars fans around the world to connect with one another, May the 4th soon became a grassroots tradition each year, with fans online and offline proclaiming it "Star Wars Day."
While the idea of May the 4th did not start with Lucasfilm, the film company that created Star Wars has fully embraced the spirit of fandom that makes the day so special. StarWars.com as well as the official Star Wars social media channels (hashtag #StarWarsDay) help spread the word and showcase fan activity. More and more official partners have offered sales, giveaways and exclusives, and have hosted parties and other activities to mark the day.
May the 4th kicks off a season of celebration, particularly since the month of May has always been important to Star Warsfans. The six live-action movies of the Star Wars saga debuted in May (starting with the original Star Wars on May 25, 1977). The month of May includes George Lucas' birthday (May 14, 1944), and has been the traditional start date of the popular Star Wars Weekends at Walt Disney World Resort.
With the exciting launch of a new trilogy of movies beginning with Star Wars: The Force Awakens coming in the near future, this day to celebrate the saga and its amazing fans is certain to become even bigger each year.